Geen minimum aantal flessen
Snelle service en levering
Gratis digitaal ontwerp
We nemen tijdelijk geen zakelijke orders aan
Personalisatie door lasergravering of bedrukking
Gravering mogelijk op plek naar keuze
Gravering al mogelijk vanaf 5 flessen
Meerdere graveringen mogelijk (logo voorkant en naam achterkant)
Gratis mock-up van de fles met gravering
Bij goedkeuring gaan wij aan de slag gaan met uw bestelling.
We nemen tijdelijk geen zakelijke orders aan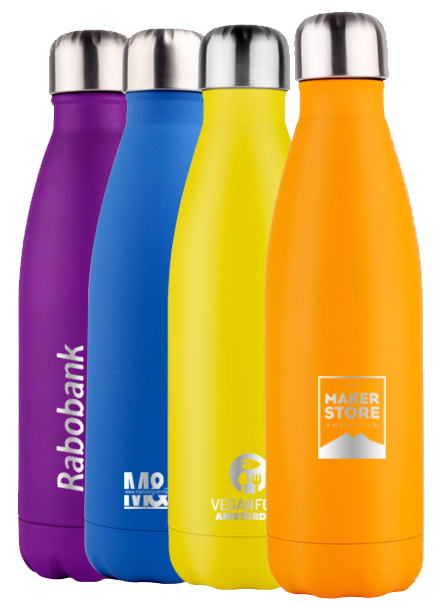 Je kunt bij Drip Drip waterflessen in grote aantallen kopen tegen een lagere prijs. Denk bijvoorbeeld aan geschenken voor je personeel of klanten. Daarnaast is het mogelijk de flessen te personaliseren met een logo of een naam. Dit is al mogelijk bij kleine aantallen.
Een gravering maakt je relatiegeschenk pas echt compleet. Het zorgt voor een persoonlijke touch.
Het graveren maakt het onderliggende metaal weer zichtbaar, dit zorgt voor een elegant maar stoer effect. Het is mogelijk om zowel de voor als achterkant te graveren. Denk aan het bedrijfslogo op de voorkant en een persoonlijke naam op de achterkant.
Let op: De prijzen hiernaast zijn per gravering. Een fles met twee gravering is dus €6 bij een afname van 20 flessen.

Wij hebben via Drip Drip onze klanten een RVS fles geschonken. Communicatie liep perfect en afspraken werden altijd nagekomen. De flessen zagen er fantastisch uit

Ik kan iedereen de services van Drip Drip aanraden. De flesjes waren gegraveerd met ons eigen logo en het zag er erg goed uit. Top service!